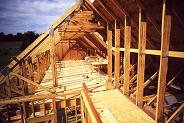 Ask our customers what makes us different and they'll tell you about our quality and service. We believe in giving you the most personalized service. We give all of our customers the same excellent service and support. You can count on getting the right truss, manufactured correctly, and delivered on time! We offer professionally engineered and carefully manufactured wood roof and floor trusses for builders and architects.




You'll be able to save time, money and concentrate your efforts on construction... Our components are delivered to your job site on specialized ground level roll-off systems. The versatility of our delivery system means we're able to accommodate nearly every job site. This system is damage free to truss components and it prevents danger to job site personnel during unloading. Our experience and dedication to prompt, professional service makes working with R & R Components a value added experience.




Our valuable take-off service is offered to you at no charge.
R & R Components believes in doing things right the first time. We offer state-of-the-art engineering and design services. You get quality and excellence in all forms of prefabricated wood trusses. All of our trusses are built to Truss Plate Institute (TPI) standards.